Being lazy isn't a disgrace at all. Everyone is lazy somehow in some aspects and always want to use shortcuts in what they do. We can all admit to feeling a little bit lazy sometimes, but then there is another breed of people that go out of their way to find shortcuts. There are many gadgets & devices that can be used as shortcuts to overcome this habit. In this article we are going to know about some cool gadgets which are extremely reliable for such peoples !
Take a step into the future with the Nike HyperAdapt 1.0, an innovative sneaker featuring "adaptive lacing" technology that's activated by a heel sensor that automatically tightens its laces.
Self-lacing sneakers are especially made for those who are too lazy people or don't know how to tie their laces on the go. These sneakers are made by "Nike" and are called "Nike Adapt BB". These sneakers come with two buttons at the side, one is for tightening up and the other one is for loosening down.
This shoe also comes with an application for your mobile phone from where you can tighten or loosen up your shoe according to your need i.e. you want to go and play basketball, brunch, jogging or something else.
Click here to buy these Awesome Self lacing shoes
Pets are great, but they can be hard work. All the feeding and caring, not to mention the constant petting they require. Not anymore, the Pet Petter is an automatic device so you'll "never have to touch your cat again".
Quickly chop your herbs with these handy, multi-cut scissors.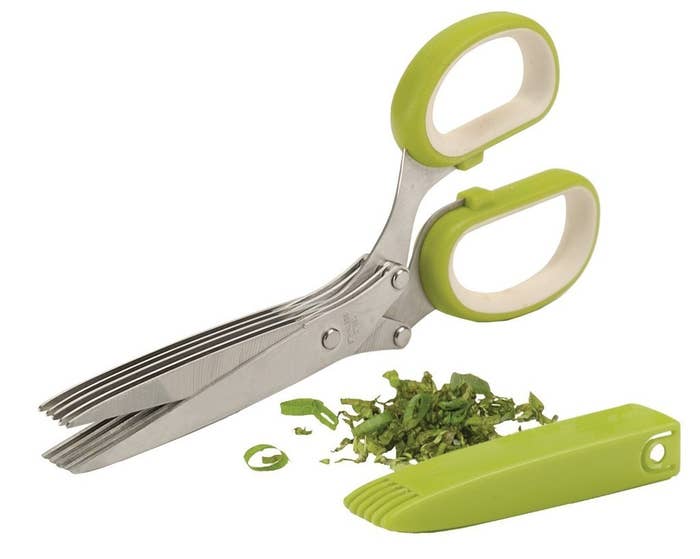 Herb Scissors/Shears make the PERFECT GIFT!!
Ideal for Cutting, Chopping and Mincing Herbs in no time!
A set of Five Sharp Stainless Steel Blades
Although the trend of reading is dying nowadays but yet there are certain number of peoples who like to read books.
Modern scientists have invented glasses that is specially designed for those lazy peoples who want to watch TV or read books lying down. This glass has a prism which allows to watch tv or read books at an angle while the person can lay just on his bed.
You can wear presbyopic glasses, myopic glasses and a series of glasses before wearing lazy glasses. Comfortable, non-oppressive, and lazy mirror convergence. The special spectacles are as similar in shape as ordinary glasses. You can wear the prism glasses only or wear it over your ordinary glasses (include prescription glasses). It is made up of a frame, fixing components and a refractive lens which turns straight-line lights into crooked-line lights. The refractive lens is settled in the view-finders of the frame; the fixings and the frame are fastened together.
PROTECT YOUR EYES AND SPINE:Are great for preventing neck cramps or eye strain.
90º VISION:Turn your view to a downward 90 degree angle, eliminating the need for head movement.
YOUNG FASHION: Wearing this lazy glasses, you can enjoy lying down watching TV and lying on the pleasant feeling of reading.
BED PRISM SPECTACLES: It's the best for the people who don't want to move. And it's a practical and thoughtful gift.
Click here to buy the Prism Glasses
This is the perfect tool for the ultimate lazy person. When cutting a banana is too much you know you have really reached new heights.
This gadget cuts your banana into uniform slices with just a single press.
NO HASSLE POWER SWITCH: Replace your rotary cutter and other sewing accessories with our battery powered heavy duty craft scissors. Two specialty blades will allow you to zip and snip through any project big or small and the easy to reach power switch takes pressure off of crafter's hands.
POWER THROUGH THICK AND THIN MATERIALS: Easily cut through fabric, leather, carpet, metal, paper, corrugated cardboard, plastic, wrapping paper and more. Great for craft projects, cutting fabric, dressmaking, sewing, quilting, scrapbooking or just opening packages. No need for a craft cutting mat.
UP TO TWO HOURS OF CONTINUOUS CUTTING TIME: This professional electric cutter doesn't require additional batteries and comes with our rechargeable lithium-ion battery which offers a full 1-2 hours of usage.
COMPACT AND LIGHTWEIGHT WITH ERGONOMIC HANDLE: These crafting scissors weigh less than one pound and are less than nine inches long, making them easy to store and carry. Scissors work for left handed and right-handed users.
Click here to buy this futuristic scissor
Light clap switch is a modern on/off switch for lights which may be a modernized technology or just a technology developed for lazy peoples.
Voice Activated Wall Mount Light Switch
Easy Installation
Includes Wall Plate, Mounting Screws and Wire Nuts
No Hands Easy Operation
Use Simple Voice Command For Turning Light On Or Off
This light switch has both voice activation and can also be used manually just like a regular light switch. Simply say the words, "Lazy Light (slight pause) Switch" …… then the light will turn from off to on or from on to off, it's that easy!
This technology also works on the sound of your clap. With a clap sound you can turn the LEDs on or off. You won't have to go and press the switch button manually. You can control your LEDs while chilling or lying down on your bed. Later on, this technology was also replaced by WIFI controlled LEDs. But still in low budget, this technology can be given a hand of applause !!
These light switches are UL (Underwriter Laboratories) approved. No assembly is required, just 2 wires to connect (hot in and load out). A small microphone is located on the front of the light switch always ready to accept your voice command. A small red LED indicates the switch is receiving spoken words and is ready to accept an on/off command.
Do you know you can also earn money from Amazon rather than spending on it?? Read to know how!
Every single person takes bath once or twice in a day. There are also some people who takes bath once in a weak but they might be considered as exceptional cases. Whenever a person takes bath, he/she dries his/her body but there. Also exists some lazy people who never dries their body because it may some time and effort!
Well for these kinds of problem there exists a cool invention which can be very useful to the lazy members of our society. This invention is known as body dryer.
This dryer is designed to dry the wet body of an individual. This dryer passes heat throughout the body which ultimately results in evaporating the wet residue on the body. Here' some of my personal ideology. This invention shall be mine favorite too if I become that lazy in my life.
Click here to buy the Lazy Dryer
Have you ever wondered that how well do you know about a lazy person?
A lazy person can indeed fall asleep anywhere, anytime I guess. Well for such a lazy people there is a very useful invention known as ostrich pillow. This is a type of pillow but not just an ordinary pillow, you can easily use this pillow comfortably anywhere in office, work table, during travel, car, airplane or anywhere else.
DREAM IN STYLE: crafted with an elegant design and high density memory foam offering 360º natural ergonomic neck support, this makes for the ideal travel companion for the modern nomad that wants to enjoy the luxury feeling of home, anywhere.
EASY TO CARRY: the smart high density memory foam specifically designed to provide a superior comfort feel, allows the GO pillow to fit into it's included travel convenient bag half it's size.
CUSTOM FEEL: thanks to the VELCRO brand closures and the softness of the viscolastic sleeve, you will feel like you have a perfect custom fit to help you drift off into dreamland.
MACHINE WASHABLE SLEEVE: the easily removable and washable sleeve made out of wonderfully soft and breathable fabric makes it perfect for frequent travellers. Please review the product description for full care instructions.
UNBOXING: As the GO pillow is made using dreamy memory foam, we recommend that you leave it to rest outside of the packaging for a minimum of 72 hours. This resting time will allow the pillow to air out, and fully expand into its natural form for the first time, after it's long journey to meet you.
Orchid pillow is not only for lazy peoples. But it can also be used by other peoples to comfortably fall asleep anywhere. It is just too comfy for having a nap!
Click here to buy the Ostrich pillow
Sometimes in the morning, either you are getting late for work. Or you are still feeling too tired even stirring your coffee can be too much of work.
ENJOY A BETTER LIFE :This self-stirring mug is simply what you need for trave .Just one push, it will simply stir the content smoothly by itself. Enjoy your morning coffee milk tea juice drink cocoa chocolate oats and while driving, without worry of spilling and making a mess. Powered by 2 AAA batteries with perfect stirring speed mechanism: not too slow and not too fast.It can provide you more perfect for your self-timer that can show on facebook .
SUPER DURABLE STAINLESS STEEL AND AIRTIGHT SEAL: Imagine that you are doing bussiness with a mug full of hot coffee in your hand. Sounds like a surprise waiting to happen. The cup's lid has a hole allows you to use a straw to sip coffee and others. When the mixing function is turning on, keep the lid closed and the solid cover can reduce any spillage.Moreover,the high grade silicone seal will secure your mug tightly to preserve the heat and coldness of your drink about 3 hours.
BIGGER CAPACITY THAN ANY OTHER MUG :We know how much you need your coffee intake, the more the better, right? That's why our self-stirring mug has bigger capacity to quench your thirst. It can holds 12-16 oz of your drink, almost a half bigger than any other mug. More is always better.
SWITCH BUTTON AND AUTOMATIC MIXING:We put the switch button exactly at the top of the hold, so it's easy to turn on and reach by your thumb. The handle itself is firm and comfy to grip.One key waterproof switch operation is simple,can effectively prevent the liquid into the switch.
WARM TIPS: Self Mixing Cups requires 2 AAA batteries(Not include), please ensure that the battery is installed after the bottom cover is sealed. NOT dishwasher safe; DO NOT microwave;Hand wash ONLY,DO NOT wash in the water to prevent the use of water after the impact. Please wash it after drinking immediately .
Amazon brought you an amazing gadget which can either help you. While you are getting late and you want to have coffee or you are too lazy to stir your coffee by yourself. This mug can stir any liquid by a glimpse of command, either it is your coffee or something else.
Click here to buy the Self Stirring Mug
Everyone loves to have a nice and clean bed. Some people do it by themselves but many people are too lazy to do so. So they leave their bed messy. But Amazon got you no worries, if you are too lazy to make your own bed, amazon has brought an amazing gadget only made for you.
This awesome self-making bed reduces exhausting chore time. This bed automatically adjusts and makes it self and also this bed consists of what you can call dual zone temperature. Both individuals can make have their own set of temperature which won't be teasing the others as well.
The magic behind the Smartduvet is mainly it's seamless layer. Hidden between your duvet and duvet cover it is the heart of the Smartduvet. Through its different air chambers and channels, it sends the conditioned air to the desired side of the bed. The smaller channels are used for climate control and the one big air chamber is used to make the bed.
Read more and buy this cool bed here
These were some of the amazing and ultimate gadgets only made for lazy people. These gadgets can also help people except for the lazy ones in their daily life by making their daily job more convenient and easier.