Amazon, as we all know, is the world's largest online retailer. With no signs of slowing down in the near future, year over year, Amazon sees growth of 25% to 31%, smashing competitors like Ebay who only see growth in the single digits.

Amazon isn't just your go-to place for online shopping, the company also produces TV shows and movies through Amazon Studios, and for $13 billion, claimed their stake in the grocery business with their purchase of Whole Foods in 2017. Amazon also owns Zappos, IMBD, Audible, Goodreads, and Twitch.tv, to name a few.

While most of us are busy spending money on Amazon, a lot of people have learned how to make money on Amazon. In this Article, we go through the plenty of ways to make money with Amazon, some ways where you don't even need a product !
Lets Begin to learn how to make money from Amazon !

Make money with Zero Investment : Online

Affiliate Marketing (Amazon Associates)
Picture this : You find a cool product on Amazon, send your friends the link, and if they buy it, you get paid a commission. On your blog, or social media page or even in email, or WhatsApp Groups – that link goes out to quite a few more folks, so you can make quite a bit more money in commissions. This is a great way to make money on Amazon without selling anything. The program allows you to earn up to 10% in advertising fees from qualified purchases.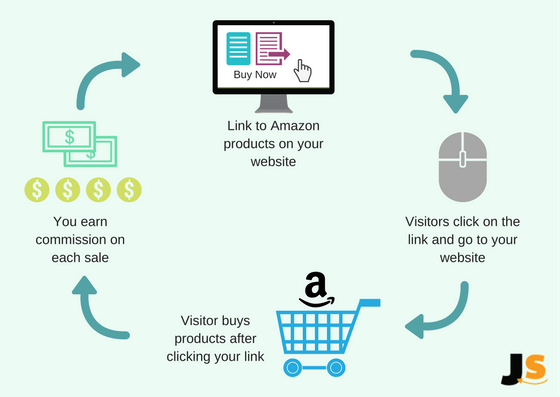 You can leverage your existing website or blog by joining the Amazon Associates program. In case you dont have a Blog as yet, you can still join the program using your Twitter / Instagram/ Facebook/ Youtube Channel and start earning right away !
Why don't you have a blog as yet ? Its fairly easy to start a Blog with no or minimal investment. Read my this blog that takes you through the whole process step by step including expected investment amount, Deals, Tips, & Resources and believe me, in 1 day, you can launch your Website from scratch !
The idea is to promote products that align with your blog or website's mission. So, if you have a website about how to travel efficiently, you may promote items such as Go-Pro Cameras, sturdy suitcases or comfortable Travel Shoes. If you write on Heath, you can include links of Health Supplements, Gym accessories, Yoga Mats and more.
Along with Products, you can also promote Amazon services like Amazon Business, Amazon Prime, Amazon Audible – These are a part of Amazon Bounty Program and gives you instant rewards !
Share your Amazon Audible Affiliate link to your friends and ask them to Register for Audible Free Trail – It needs a Credit Card but the user is not charged until the Trail period and can cancel it before. Once your friend's free Trail starts, you get INR 150/- !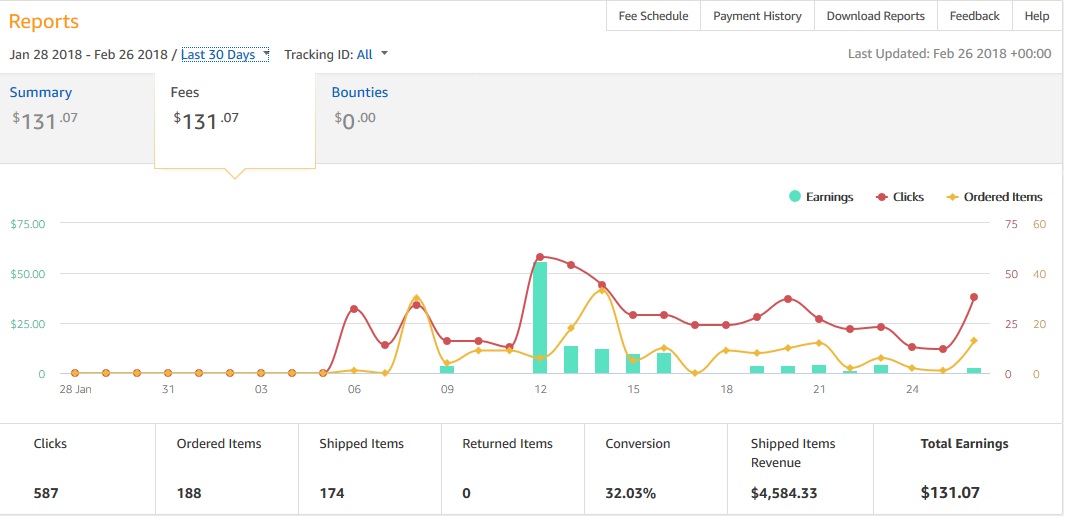 Since Amazon is so ubiquitous these days, you end up getting commissions on all sorts of random products that people buy during the cookie window (24 hours) after clicking your link. If you can build high traffic sites and get lots of clicks to your affiliate links, the earnings add up fast.
If you share an Amazon Affiliate link of a Mobile phone and someone clicks that link and buys that phone along with other items in his Cart, you get commission for all the products in their cart, not just the Mobile phone ! Isn't that awesome?
There's no upfront cost to joining the Associates program. So if you don't want to invest money, this is a great option. It's easy to join and you get approved instantly. Amazon also provides you with a wide range of linking tools to embed on your website – Links, Widgets, Banners etc.
The best part is, you start earning from Day 1 !!
Click here to get started with Amazon Associates

Publish Your Own Books
Are you a good writer?
Gone are the days when you needed to be signed by a publisher in order to make money as a writer. Amazon lets you publish your own books on the world's biggest online bookstore. If you're able to produce a quality book, and market it correctly, there's definitely potential to make a lot of money on Amazon this way.
Relax, you don't need to create a potential Pulitzer Prize book in order to get published on Amazon.
Because it's a self-publishing platform, anyone can do it, and many self-made authors have used Amazon to help strengthen their expertise in their particular subject matter.
You can publish digital books through Amazon Kindle Direct Publishing (KDP). It takes less than five minutes to publish, your book will be available on Kindle stores across the globe in 24-48 hours. Then again, in addition to digital format, you can print actual copies of your book too.
Free File Conversion: Upload your manuscript and convert it into a Kindle eBook for free.
Track Worldwide Sales: Track sales as they happen and use our real-time insights to grow your audience.
Marketing Tools: Benefit from Amazon's powerful marketing tools and global distribution. Enroll in KDP Select to get more promotional benefits.
Amazon lets you set your own prices for self-published books. You'll earn up to 70% of royalties on Kindle sales. You can also make changes to your content at any time.
Click here to get Started with Amazon Kindle Direct Publishing

Create Custom Merchandise With Merch by Amazon
Do you have a clever design idea for a t-shirt or a coffee mug? Don't have the resources to produce hundreds or thousands of these on your own?
Merch by Amazon can turn your idea into a reality.
All you have to do is upload your design. Then simply select a product type and color. Amazon will create a product page for you. They'll also take care of all production, shipping, and customer service. You'll earn a royalty for every product sold that you designed.
To summarize, Merch is a print-on-demand service that allows you to upload designs into Amazon's database. Then, those designs can appear on shirts, tote bags, coffee mugs, hats–whatever you want! When a sale is made, Amazon creates the item for you, ships it, and you make money.
What makes Merch by Amazon so great is that there's no need to purchase inventory. All you have to do is create a design, upload it to Amazon, select your colors, and decide on your price. From there, Amazon will do all the work for you. Every time someone purchases one of your shirts, Amazon will print it, pack it, and ship it for you. They'll even handle customer service for you. You'll then collect a royalty fee for the purchase.
To apply, head over to the program's landing page and fill out the form. Keep in mind the approval process can take up to three months, so if you're at all interested, consider signing up right away to expedite the process. There are no upfront costs to join Merch by Amazon. But you will need to fill out an application to be considered for the program. Not everyone will qualify.
How do you join Merch by Amazon?
Sign up to Merch by Amazon and create a design
Upload the design on any merchandise
Select the color of your merch and write a product description
From there, Amazon takes complete charge of creating a product page, printing, packaging, fulfillment and customer service.
Maybe you are thinking this opportunity is only for a designer. However, you do not need to be a professional designer; there are multiple free online designing platforms out there such as Canva and Snappa where anyone can make a design to be printed on a t-shirt.
Even better, just go to Pinterest and take any design that you like to print. Make sure the design does not have a watermark present on them.
Click here to Get Started on Merch by Amazon

Trade In Used Goods
The Amazon Trade-In program allows customers to receive an Amazon.com Gift Card in exchange for thousands of eligible items including Amazon Devices, video games, and more. The process is easy and convenient with an immediate offer and free shipping.
Top categories include:
Amazon products (Kindle, tablets, Echo, etc.)
Cell phones
Gaming
Books
Technically, trading in your used products won't put cash in your pocket. However, you'll receive an Amazon gift card which is almost as good.
If you have unwanted merchandise lying around the house, see if it's eligible for a trade-in via Amazon. Amazon doesn't want just "any old junk." They are selective about what you can trade in. Often, they are looking for high-demand products with low supplies. Furthermore, the products need to be in very good (or better) condition.
Click here to Get Started with Amazon Trade In

Join Amazon Mechanical Turk
Amazon Mechanical Turk (MTurk) is a crowdsourcing marketplace that makes it easier for individuals and businesses to outsource their processes and jobs to a distributed workforce who can perform these tasks virtually. This could include anything from conducting simple data validation and research to more subjective tasks like survey participation, content moderation, and more. MTurk enables companies to harness the collective intelligence, skills, and insights from a global workforce to streamline business processes, augment data collection and analysis, and accelerate machine learning development.
While technology continues to improve, there are still many things that human beings can do much more effectively than computers, such as moderating content, performing data deduplication, or research. Traditionally, tasks like this have been accomplished by hiring a large temporary workforce, which is time consuming, expensive and difficult to scale, or have gone undone. Crowdsourcing is a good way to break down a manual, time-consuming project into smaller, more manageable tasks to be completed by distributed workers over the Internet (also known as 'microtasks').
If you have the time, ability, and resources to perform microtasks, then consider joining MTurk. Many tasks will earn between $0.10 and $1. They're pretty easy to complete too. So the goal is to complete as many as you can. Some of the tasks are pretty boring and tedious. But you can work part-time on your own schedule and get paid for it. You most likely won't make a lot of money, but it's easy to do and pretty much anyone who can do this.
There are thousands of tasks available at any one time. Once you've completed a job and the "Requester" approves your work, you can access the money you've earned, which you can transfer to your bank account.
Click here to get Started with Amazon MTurk

Write Reviews For Amazon Vine
Amazon Vine invites the most trusted reviewers on Amazon to post opinions about new and pre-release items to help their fellow customers make informed purchase decisions. Amazon invites customers to become Vine Voices based on their reviewer rank, which is a reflection of the quality and helpfulness of their reviews as judged by other Amazon customers. Amazon provides Vine members with free products that have been submitted to the program by participating vendors. So, this is another example where you won't actually receive any cash for participation. Amazon Vine rewards you with free products.

If you've already written lots of helpful reviews for products on Amazon, you could be eligible for the Amazon Vine program.
You're not required to leave a favorable review just because you got the product for free. That defeats the purpose of the program. The best way to increase your chances of getting invited to Amazon Vine is by leaving reviews for Amazon products you've already purchased. The purpose of Amazon Vine is to encourage honest, unbiased, and helpful feedback.
Read more about Amazon Vine here

Become an Influencer
Amazon Influencers is another affiliate program. But it's different than the Amazon Associates program we talked about earlier. The Amazon Influencer Program allows you to get your own presence on Amazon, which you can customize and curate with products you recommend in your videos on YouTube or pictures on Instagram. We also give you a special vanity URL (amazon.com/shop/handle), which allows you to promote your Amazon presence verbally to your followers. When customers visit your page and shop on Amazon, you get compensated for purchases in a similar fashion as you would with the Amazon Associates program. You can now send your followers to shop your favorite products in one place with their trusted e-commerce leader.
For example, I can create my own Page like : https://www.amazon.com/shop/princepatni
The influencer program is designed to promote products via your social channels. It's a great opportunity to leverage your existing social following. To qualify for the influencer program, at minimum, you'll need a YouTube, Instagram, Twitter or Facebook account. Amazon will look at the number of followers you have, your engagement metrics and the type of content you post to determine whether you're a fit.
The Amazon Influencer Program is an extension to the existing online Associates program for social media influencers. With the Influencer Program, you get your own page on Amazon with a URL to showcase the products you recommend to your followers. This gives you an additional way to direct traffic to Amazon, which is especially useful where hyperlinking isn't possible
Get Started with Amazon Influencer Program Here

Work From Home as an Amazon Rep
If you want a job where you can be home-based, consider a spot on Amazon's virtual customer service team, also known as Amazon's Work-from-Home Customer Service Associate.
Check out this Video :
If you want to help Amazon customers while sitting in your pajamas, this could be the job for you.
Virtual opportunities aren't available everywhere but If you live in a certain area, you may be able to apply for Amazon's "work-from-home" positions, given that you're qualified and a right fit for the position. The customer service team supports 16 languages from over 130 locations in over 40 countries around the world.
Amazon seek action-oriented, flexible problem-solvers to assist customers in expediting orders and correcting post-sale problems. Associates interact directly with customers via phone, email, chat, mobile chat, and Alexa, using cutting-edge tools to navigate customer accounts, research and review policies, and provide effective solutions.
Most of the jobs offered are in data entry and customer service. There are also non-customers service positions that those with a qualified tech background could potentially apply for, such as cloud tech account managers and technical trainer.
The income you make as a work-from-home employee with Amazon depends on the position.
Look at this current requirement at the time of writing :
So, Typically, requirements include a high school diploma, Few months or an year of customer service experience and a few more things. You should have basic phone and computer skills as well as a fast and reliable wired internet connection. Amazon sends you the required technology needed to work, so if you are selected, you will be shipped a laptop, headset, phone and 2 Gemalto tokens to the address provided in your application.
Click here to get Started with Amazon Rep Programme

Make money with Zero Investment : Offline

Sell Professional Services
Most people don't realize it, but Amazon is more than just a marketplace for tangible products. You can also sell professional services through Amazon Services. So, if you're a plumber, a lawn care specialist, a dog walker, or a piano teacher, Amazon Services can help connect you to people who want your help.
Click here to see how Amazon Services Page looks like where Amazon users will hunt for services.
Step 1 : Get discovered : Customers can easily find and purchase your services while shopping on Amazon.com. Your services will also show up with related products.
Step 2 : Amazon sends you jobs : Receive actual jobs when customers order your pre-packaged services.
Step 3 : Get paid by Amazon : Simply show up, complete the job and get paid. It's that easy.
There are no upfront costs or monthly fees to join this program. You'll only pay a portion of your revenue share for completed jobs based on the service type offered.
Click here to Get started with Amazon Professional Services

Deliver With Amazon Flex
You've probably realized by now that Amazon runs its own delivery service. I'm sure you've seen drivers delivering packages around your neighborhood and even to your own door. If you're looking for a part-time job, you can become one of those drivers through Amazon Flex.
The earning potential is between Rs 120-Rs 140 per hour. Expect to deliver locally or near a city where you live. Packages are picked up from your nearest Amazon station. All of your earnings can be tracked through the Amazon Flex mobile app.
As the name implies, the position is flexible. Create your own schedule with available opportunities seven days per week.
One of the biggest perks is that you get to set your own schedule, using the Flex app to claim delivery blocks (or shifts) you want to work. You're an independent contractor, though, so you'll be responsible for your gas, parking, tolls, etc.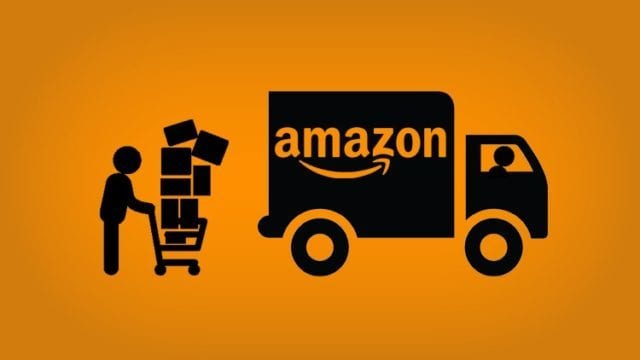 To qualify, you'll need a phone with the Flex app and a car. If you're delivering Prime Now orders, any car will suffice; however, if you're delivering for Amazon.com, you'll need a four-door midsize sedan or larger. In some areas, bikes are acceptable.
To download the app, open this link in your mobile phone's browser: https://logistics.amazon.in/app/download-app/
If you meet Amazon's requirements, you'll be able to download the Amazon Flex app and complete these tasks:
1) Sign up for Amazon Flex using your existing Amazon account or by creating a new Amazon account
2) Provide answers to questions that we'll use for a background check
3) Select a service area where you will pick up and deliver Amazon packages
4) Watch the videos to learn best practices for delivering with Amazon
5) Provide tax and payment details
Click here to get started with Amazon Flex

Amazon CamperForce
If you are based in USA, you can apply for Amazon Camperforce.
Remember when the minimalist trend first started happening? People sold their homes and possessions and moved into a bus, tiny house, RV or van so they could hit the road and live anywhere they pleased. That must've caught Amazon's attention because they now offer a way for those people to make money, while on the road.
It's called CamperForce and basically, you can earn money by helping Amazon pick, stow and receive merchandise orders.
The Amazon CamperForce program brings together a community of enthusiastic RV'ers for seasonal workcamping job opportunities. Your responsibilities will be in the areas of picking, packing, stowing, and receiving at an Amazon warehouse.
Click here to get Started with Amazon CamperForce

Make money by Selling : Zero to High Investment

Sell Products With Amazon FBA
FBA stands for "fulfillment by Amazon." In a nutshell, here's how it works:
Become an Amazon seller.
Create / Buy wholesale products
Ship your inventory to an Amazon fulfillment center.
As a seller, all you would need to do is ship your inventory of products to Amazon's warehouse and they take care of shipping it for you.
You can either do Online Arbitrage (Reselling after buying from online stores like Ebay), or Retail Arbitrage (Reselling after buying from a local Store like Big Bazar, Walmart, More) or Private Labeling.
In online/retail arbitrage, you buy and you sell the products as is. In Private Labeling, you buy the products, brand it under your own name and then sell the products on Amazon.
To explain, Private label is a process of manufacturing a pre-existing item (preferably, with product improvements), putting your branding and logos on it, and selling it to consumers. Sometimes it is referred to white-labeling or brand-creation.
Amazon makes private labeling even easier thanks to a number of advantages:
First, you can use a tool like Jungle Scout — which is an all-in-one platform for selling on Amazon — to estimate the sales your product will make once it's on Amazon.
Next, it's easy to source and manufacture your products with the help of platforms like Alibaba or Jungle Scout's Supplier Database.
Finally, after you've created your product, you can sell it on Amazon using FBA. You don't even have to ship your own orders!
Once you join Amazon's FBA network, Amazon will deliver the products to customers for you. You could always ship the products yourself to avoid extra Amazon fees, but FBA is the best way to sell products at scale.
You make money if you can sell products on Amazon for a higher price than you pay for them.
Steps to get Started :
1. Select a Plan :
With the Individual plan, you'll pay $0.99 every time you sell an item. The Professional plan costs $39.99 per month, no matter how many items you sell. For both plans, Amazon also collects a referral fee on each sale, which is a percentage of the total transaction and varies by product category.
2. Consider your selling strategy :
Resellers find popular products that already exist and offer them in Amazon's stores.
Brand owners manufacture their own products—or source goods to sell under a private label—to offer shoppers unique selection.
3. Create an Amazon seller account :
You can use your customer account to start selling, or you can create a new Amazon seller account with your business email.
After that you have registered as a seller on Amazon, follow these steps to join FBA :
The awesome thing about Amazon is the sheer number of potential customers that may click and hopefully buy your item. The downside is, you face fierce competition by other sellers who are doing the exact same thing as you.
Click here to get started with Selling on Amazon
Click here to get started with FBA
Sell Products Under Amazon's Private Brands
The Amazon Accelerator program is an incentive for manufacturers to create their own brands with innovative products. You'll sell those products exclusively on Amazon as a private brand supplier.
Amazon guides you through the entire onboarding process, providing you with useful tools to create your brand. You'll also benefit from a suite of marketing support.
If you're unsure about what types of products will perform well, Amazon can facilitate product testing and customer feedback.
Click here to Get started with Amazon Accelerator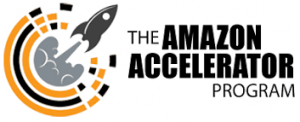 Sell on Amazon Business
Amazon Business is the B2B marketplace on Amazon, providing business customers with the pricing, selection, and convenience of Amazon, with features and benefits designed for businesses of all sizes.

Step 1 : Register to sell on Amazon : Register for a Professional Selling Account on Amazon.com. For existing sellers, you can add Amazon Business features easily through Seller Central.
Step 2 : Create a Business Profile : Tell your unique story using our Profile Editor. You can add your quality certifications and diversity credentials for discerning business customers.
Step 3 : Set up your products : Use our simple listing tools to add your entire catalog and the Enhanced Content feature to display additional product information to your customers.
Step 4 : Start Selling : Reach millions of business customers already shopping on Amazon.
Click here to get started with Amazon Business

Amazon Dropshipping
If you like to sell stuff with zero investment then Amazon dropshipping is the best option you have out there. Many people confuse Amazon dropshipping with Amazon FBA – that's not the same.
With Amazon FBA, you need to deliver the products to Amazon fulfillment centers in bulk quantity whereas in dropshipping you do not buy anything in bulk. In a nutshell, you just display the product on your Amazon store and when you receive an order ask your supplier to deliver the product to your customer's address. You receive the money from the customer, pay the supplier and keep the difference as profit. Another great way to earn money from Amazon.
One popular form of dropshipping is through print-on-demand. Print-on-demand allows you to advertise customized products such as t-shirts, mugs, posters, and even books without purchasing inventory. Then. when the sale is made, the supplier creates the product for you, then ships it.
To do Amazon dropshipping, you need to select the option of fulfillment by the merchant, which means you (the seller) are responsible for fulfillment.
Click here to know all about Amazon Dropshipping

Sell Handmade Goods
There is a high demand for handcrafted goods. If you're crafty and have a passion for making things at home, you can join Amazon Handmade, as long as your products fall under certain categories and must be made "entirely by hand, hand-altered or hand assembled (not from a kit) and handmade by you or by one of your employees."
Opportunities to sell a design may be closely tied to things that are timely or seasonal — remember those political shirts around the elections? If you have an eye for reading the trends and understanding what might resonate with people, give it a shot.
Click here to see how Amazon promotes Handmade on its portal.
Sellers from more than 80 different countries are selling handcrafted products via Amazon. Amazon Handmade can really help a large audience discover your unique products. Amazon has an artisan-only application and audit process. This ensures that the products are genuinely handcrafted.
The pricing for handmade sellers is very straightforward. There are no hidden fees or listing fees at all. You'll just pay a 15% referral fee to Amazon for each sale made.
Obviously, this method takes a bit more work to stay on top of your orders, since you would be producing them yourself. But, the exposure Amazon offers your brand is massive.
You also have the option to deliver the product on your own or you can ship the product to an Amazon fulfillment center where Amazon will deliver the product under the FBA (fulfillment by Amazon) program.
Click here to get started with Amazon Handmade
Alright ! These were the ways you can make money from Amazon, and keep it as a secondary or even primary income source. Now lets look at ways you can save money on Amazon !

Save Money on Amazon

Take Advantage of Credit Card Perks
The simplest way to make money on Amazon is by taking advantage of the Amazon Rewards credit card perks. Amazon's very own credit card offers 3% cashback on all your Amazon purchases. And those rewards jump up to 5% cashback for Amazon Prime members.

Load money in Amazon Pay and then Shop
Understand this from the recent offer from Amazon – Add balance & get 10% back up to Rs 250. You can loaded your wallet with Rs 2500 and get Rs 250 as cashback. This is a flat 10% saving on your purchase.
Its not necessary that this offer is always available, but keep checking for such deals.

Send Money via Amazon Gift Card
On special occasions like birthdays, weddings, anniversaries etc you can send your dear ones Amazon gift cards instead of money.
This way you can save 10% of your money as you get cashback upto Rs 100 on the purchase of Amazon gift cards. You receive cash back, your dear ones get the gift card – a win-win for both.

Become a Prime Member
Amazon offers exclusive benefits to its prime members that would help you save a lot of money. The benefits include shipping benefits, 30-minute early access to lightning deals, access to deals exclusively for prime members, and unlimited access to video streaming.
Click this link to become a Prime Member today !

Add items to Cart without checking out
You can keep adding your wishlist products to your shopping cart after logging into Amazon account. Do not checkout until you actually need the product. As a result, you will receive email notifications from Amazon whenever there is any change in the price of the products.
This is a great hack to buy your favorite products at a discounted price.

Use Amazon Kindle for Books
If you are a book enthusiast, then save a lot of money – just buy the book's Kindle Edition on Amazon. You can check out Kindle Books here on this link.
You can also try Amazon's new venture Audible : Where you can listen to books rather than read – This is particularly helpful when your commute to work is long, or you are traveling in night time.
Get your free Trail to Amazon Audible here on this link !
Amazon Smile for Charity
Shopping for yourself doesn't mean you can't also give a little. The Amazon Smile program makes that easy. Always visit the site by going to smile.amazon.com.
Then, pick a charity—over a million 501(c)(3) public organizations are in the list. When you purchase eligible products, 0.5 percent of the purchase price will go toward your favorite charity. You get zero tax benefit, but you still get what you purchased, and your favorite charity benefits. Charities, visit org.amazon.com to register. Currently, you can't shop with Smile on mobile.

Conclusion
As you can see, there are plenty of ways to make money on Amazon. Whether you want to become an Amazon affiliate, be an Amazon individual seller, sell t-shirts through Amazon Merch, or self-publish your own books on Amazon Kindle, there is no shortage of opportunities. If you're willing to put in the time and effort to do it right, there's no reason why you can't build a successful Amazon business for yourself.