monday.com is a cloud-based Work OS, where teams create workflow apps in minutes to run their processes, projects, and everyday work. Teams shape their workflows and projects, code-free, with a platform that adapts to shifting needs quickly, liberates teams from manual grunt work, and connects teams in a collaborative work space.
Typically when it comes to project management software, the more functionality you add to the tool, the harder it becomes to learn. monday.com strikes a rare balance between functionality and ease-of-use, making it an almost ideal project management tool for businesses and organizations of all sizes.
The platform's features include: Customizable workflow templates to manage anything your way, time tracking to meet important deadlines, Automations to eliminate manual work, dashboards to gain valuable insights and know where things stand at a glance, and integrations with popular tools and apps to streamline processes. More than 100,000 companies around the world use monday.com to free their teams to move faster and let them focus on the work that requires their talents.
Monday.com makes it fun and easy for everyone to collaborate, focus on what's important, and get more done at work. It's the first visual tool of its kind and shows you exactly where things stand in a single glance. Finally get rid of painfully long email threads, cut down on meetings, and experience the satisfaction of turning things green when they're done.

Basics about Monday.com
Website : Click Here
YouTube Channel : Click Here
Twitter : Click Here
LinkedIn : Click Here
Facebook Page : Click Here
Contact : support@monday.com, 1 (201) 778-4567
Location : 26 W 17th St. New York, NY 10011, USA
Supported Languages : Spanish, Portuguese, French, German, Russian, Japanese, Dutch, Italian
Deployment Model : Cloud
Devices Supported : Windows, Android, iPhone/iPad, Mac, Web-based
Free Trail : Yes
Training : In Person, Online, Webinars, Documentation
Support : 24×7 (Live Rep), Online
Top Customers : Adobe, Universal, Walmart, Uber, Costco

Click here to start your Free Trial Today !
This video should get you going with the Capabilities of Monday.com–

What kind of Companies can use monday.com ?
Information technology
Human resources
Marketing
Media and production
Remote work for contractors and self-employed workers
Product management
Sales
Software development

What problems are you solving with monday.com? 
Keep everyone on the same page
Solving the bridge between multiple teams
Easily work with freelancers and third parties
Highly customizable interface
The lack of organization and communication between multiple teams is now diminishing.
Reduce your inbox and tracking tasks so much more effectively compared to other project management software.
Case Study
Lets look at one of the case study Monday.com published that shows how a company saved time and money using this platform.

Features
Work remotely, intuitively: plan, manage and track work, including the most complex projects and processes, wherever you are. Monitor progress, communicate in-context and keep track of all your team's moving parts.
Adjust for your exact needs: It all starts with a customizable board. You can pick a ready-made template, make it your own, and choose the building blocks needed to jumpstart your work.
Get started easily and quickly: onboarding is as simple as using your phone – so you can rest at ease knowing your team will be remote ready in minutes!
Communication within the platform : Everything is tied to the project so you're not switching back and forth between the project tracker and email
Centralized management with boards – With monday.com, everything is managed with a board. This is color-coded and visually organized to help you see who's working on a task, project, mission and to-do and where they are in the process. For example, team members can put a "Stuck," "Working on it" or "Done" status on each task.
Pulses for organized communication – All communication on monday.com takes place within the context of a board. Rows, called "pulses", are added to the relevant board and can include comments and file attachments. Users can send messages to specific people or the entire team. Notifications for pulses take place in real time via the desktop and mobile apps.
Visual organization – With meaningful colors and board placement, managers can glance to understand how each project and team member is progressing. This helps to ensure that all deadlines will be met and that new assignments are properly delegated/assigned.
Invite clients – Clients can be invited as guests to view a certain board and see the progress of their project at anytime.
Advanced search – Search through images, updates, projects and assignments with no date limit.
Timeline – Timeline is monday.com's version of Gantt charts and is ideal for tracking tasks or projects that span over multiple days or for teams with multiple workloads. If there's a delay with a project or task, users can easily drag and drop timeline bars to extend the due dates. Users can also view multiple timelines on a single timeline board.

Summary of Important Features of monday.com
A collaboration tool for multiple employees
A many-to-many communication tool
A visual display of progress
An Execution Board – with big screen display
Easy collaboration: tag teams
Easy communication: tag people
Eliminate noise: get updates based on relevance
Email notifications – get notified by email
Email updates – send updates by email
Integrations: Dropbox, Google Drive, Pipedrive
Knowledge base – auto generated, completely searchable, full documentation
Motivational tool
New employees can hit the ground running
Personal and public Boards
You can copy and paste from Adobe
You can leave live comments on visuals
Zero emails and meetings overhead

Plans
You can try Monday.com for free for 14 days, no credit card required. After that, you have to pay for an account. Lets look at the plans below and you can click Here for all the plans.
The pricing is based on 2 variables: the feature plan you'd like to use, and the number of users on the platform. Once you've decided on the feature plan and users, choose your preferred subscription payment: month-to-month or annual. Payment is made in one upfront installment (so if you purchase a plan for one year, you will pay for one year upfront).
Plans & Features
Basic – $39/month (billed annually)
5 GB of storage
Simple search function
Filter by person
iOS and Android apps
Add unlimited boards
Two-factor authentication
24/7 email and phone support
Standard – $49/month (billed annually)
Everything in Basic, plus:
50 GB of storage
Crazy powerful search
Filter by anything
Create your own account templates
Add updates via email
External integrations
Share boards with guests
Limited number of guests
Full API
Timeline
Pro – $79/month (billed annually)
Everything in Standard, plus:
Unlimited storage
Unlimited guests
Private boards
Tags
Detailed activity stats
Google authentication
User profile customization
Enterprise – Contact the provider
Everything in Pro, plus:
Higher API rate limit
VIP support with an account manager
One-on-one training
Two-factor authentication
Advanced security features
Single Sign On
Audit log

Payment methods accepted
Monday.com accepts the following payment methods:
● All the major credit cards (excluding debit cards) – Visa, Master Card, American Express, Discover, Diners Club, JCB, Carte Bleue, Union Pay.

● You can also purchase your monday.com subscription with PayPal.

●They accept invoices for Enterprise orders that meet a minimum fee – Feel free to reach out to support@monday.com for more info.

Pros of monday.com
The software is very intuitive and easy to interact with, with a very clear and dynamic graphical interface, the program allows you to manage all kinds of projects, advertising campaigns, CRM functions among many other things that makes "monday.com" such a tool so to improve the productivity of any user or company who wants to use it. The ease of adding items to your dashboard so it helps visibility by having all your activities in one place, as well as options like commenting on activities of your colleagues, receiving real-time notifications.
The ability to organize all the tasks in one area. The colors help maintain fluidity and balance and the software itself allows us to maintain organization during times of having to handle multiple projects and tasks without losing where you last left off.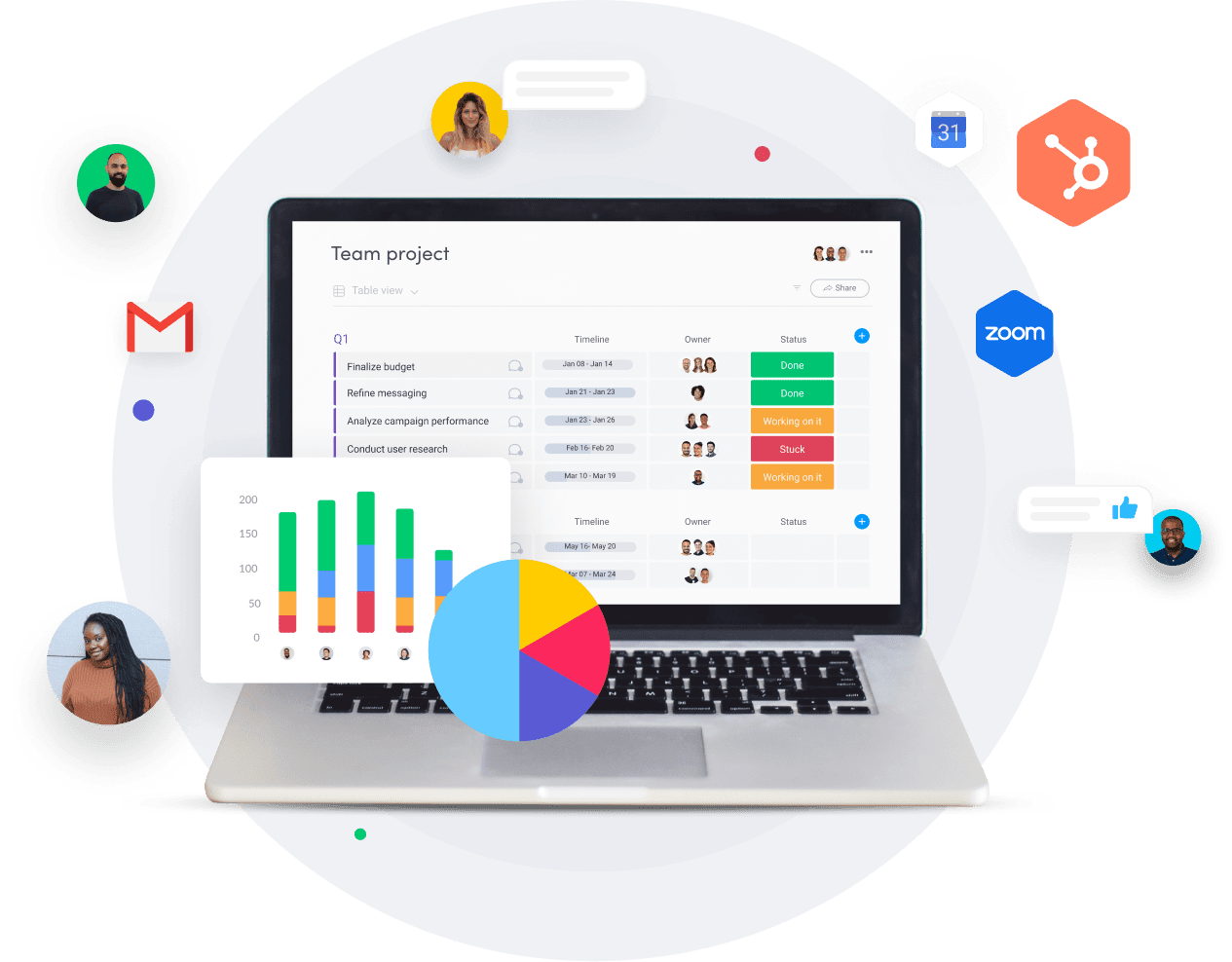 The feature to move items from ideation stages, to creation stages, to completion/published stages. Monday is systematically operational and effective across all levels!
Also, the support is out of this world, this company truly cares about the user and user experience, they prioritize your satisfaction.
It includes a messaging system, in this way you can interact with your work team to make each project you manage it together and at the same time so that each step you take is safe and reliable, always in the search to achieve the best possible way for your business goals.
The platform has an innovative and fresh interface, from a glance you can observe the progress in your tasks, structure everything in such a way that you can fulfill your tasks according to the necessary dates, segment and organize everything through lists, labels and colors making everything much more simple and practical.
The different boards that can be constructed by inviting everyone to submit their ideas and purposes for future projects and tasks. That way, you can all construct a workplace that is based on things that you consider good for the company and structure it in tasks for workers to complete, add comments on each project and improve communication between everyone. monday.com lets you work with all the depth you want, and release your full potential.
There is a big difference between the web app, and it would be great if Monday.com put the same features in the mobile app.
There are currently no dependencies for tasks, and you can't create a subtask list of to-do's within a single task. There also isn't anywhere to leave more detailed instructions for a task, other than the "Updates" section – which seems like an inappropriate place for detailed task instructions.
There is no way to view multiple boards at once or view a true hierarchy of boards.
Unless you have templates, Automations, integrations set up just right, it will take longer to put in simple tasks/projects than the actual work would take
Although the software is implemented in mobile applications for iOS and Android devices, the performance of these is not the best, it is a little slow and lack the functionalities that are present in the web version.
For new users the learning curve can be a little long because of the amount of features offered by the tool so you have to take your time and gradually experience until you fully understand how it works as extensive tooling as it is monday.com.
As the usage increases and boards become larger, the interface is significantly slower. Promised improvements in speed have yet to be seen.
There are bulk update features for tasks however these are unavailable for all column types.

Look and Feel of monday.com Interface
Monday.com looks like it evolved from collaborative spreadsheets. Imagine Google Sheets in the hands of an extraordinarily capable designer.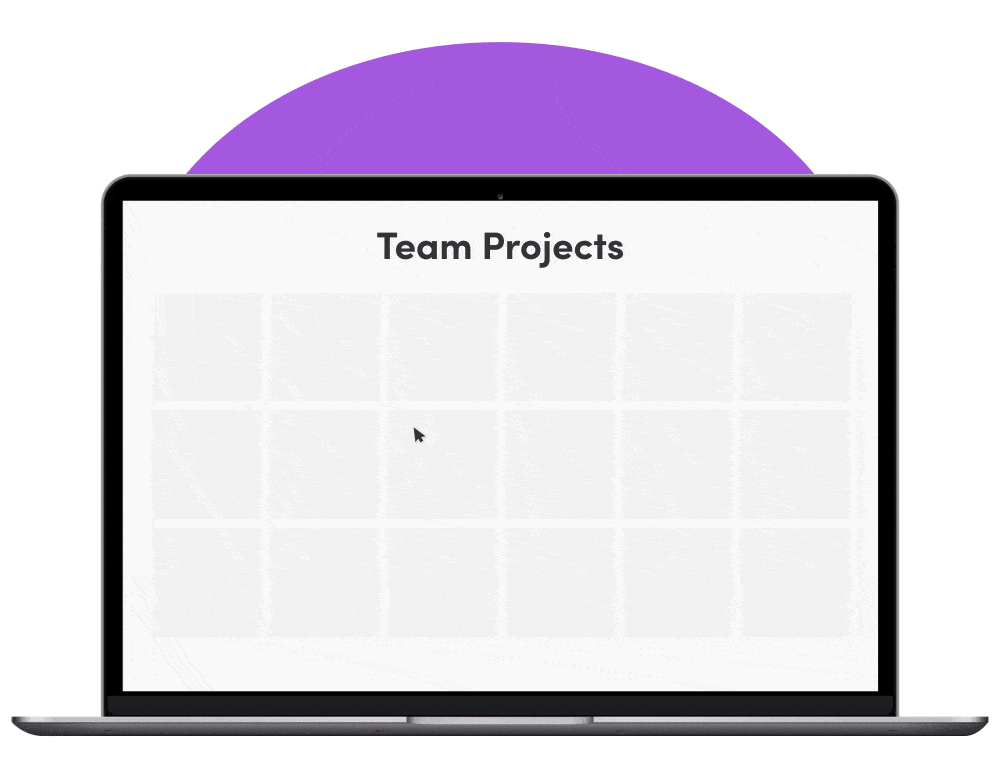 The initial setup is a simple grid. You choose what goes into it. What would be sheets are called boards here, and you can have more than one of them in view at any given time. Monday.com also shares similarities with kanban apps, and indeed there is a kanban board view you can use.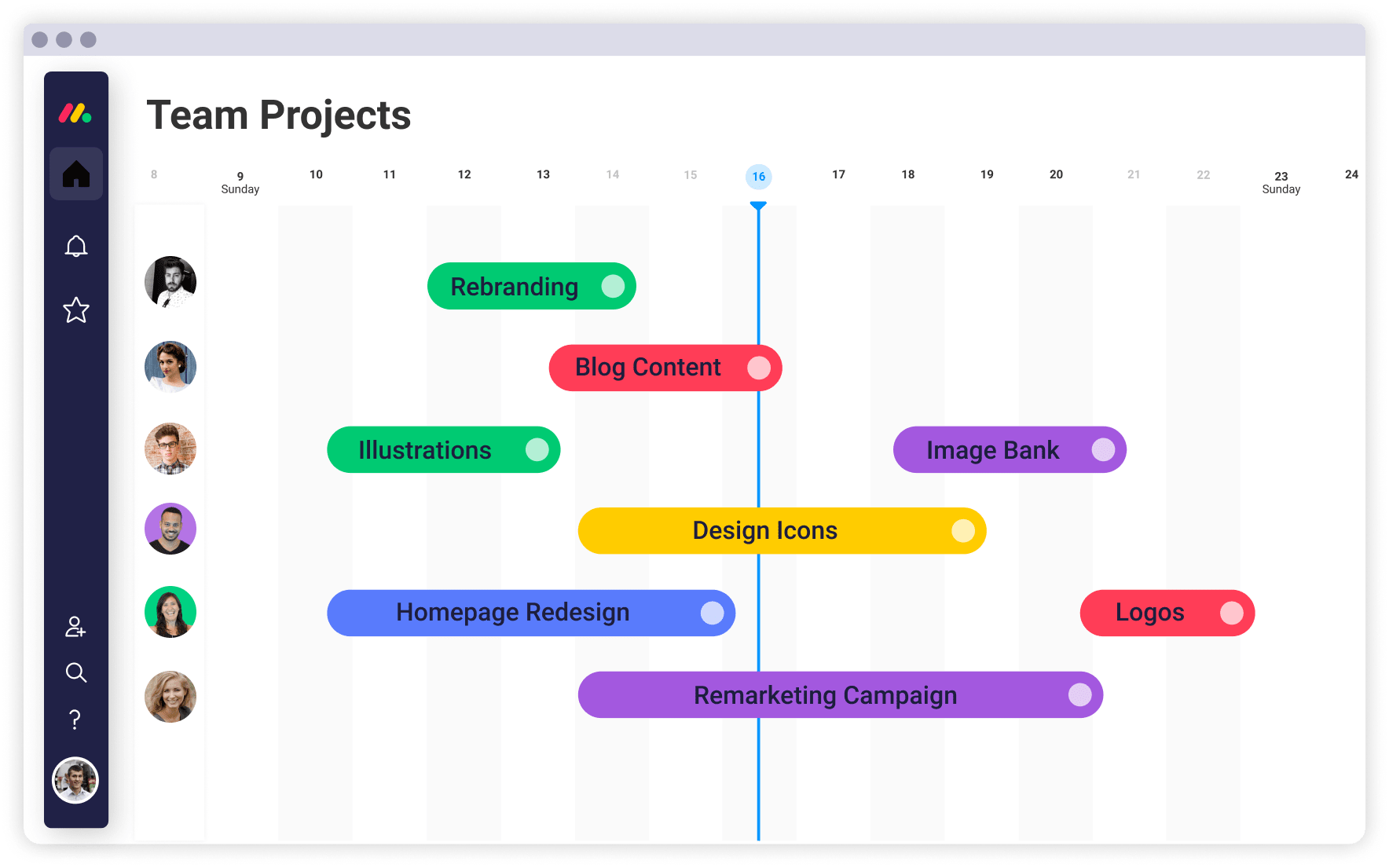 You can make boards from scratch or use Monday.com templates. Everything about the boards in Monday.com is customizable, whether you make one or start from a template. You decide how many columns to use, what each column means, what options are available for the cells within the columns, and even what color to associate with different options.
You can organize your boards into folders. You can also manage which boards are shared with outside clients, which are visible to all team members, and which are private only to you.
The spreadsheet-like default view is called Table. You can add a Calendar view for boards that include dates. A Map view is good for boards that include a physical location.
Each row typically contains a task or whatever it is you want to track. The columns indicate different attributes of that task, such as the deadline or who is assigned to do it. You define the columns as you like, and you decide what selections are available for each column. You can discuss work with your teammates in a conversation panel attached to any row.
Building Blocks
The app is fairly intuitive, as well as slick and responsive. Actions rarely require more than one or two clicks. You can drag and drop elements to rearrange them on the page. Commenting and discussion tools are just as intuitive here as they are on social media.
The different views you can customize in monday.com

Table View – The standard board view for Monday.com. Works like a spreadsheet with highly customizable columns.

Timeline View – Converts your table into a project timeline view so you can easily plan and manage tasks and projects.

Kanban View – Visualizes all progress from the Table view into a Kanban board. Suitable for teams and organizations that like to visualize progress using the Kanban method.

Calendar View – All your tasks, task groups and projects presented on a calendar.

Chart View – Creates a pie chart using the data from the Table view, useful for reporting purposes.

Files View – A file manager inside of Monday.com. Allows users to easily navigate through and search for files quickly.

Map View – Visualizes all tasks created in the Table view on a world map, uses data from the Location and Country column types.

Form View – Creates a sharable form for your tasks in the Table view. The sharable form can then be filled out by anyone and the entries are automatically updated for your tasks on the Board.

Broadcast View – Helps to generate a sharable link to your board on Monday.com. With this link, any third parties that are not signed up for Monday.com and/or are not your team members can view your board and all updates as they happen.

Remote Working Features in Monday.com
Keep everyone aligned : Define clear priorities with Timeline, keeping your teams aligned and motivated.
Stay on top of your work : Receive real-time status updates, check project progress and easily share files with remote team members.
Manage workload : Gain insight into your team's work capacity, no matter where you are.
Communicate easily : Keep your work moving forward by turning chats and video conferences into actions, and communicating in one shared workspace.
Manage risks : Adapt rapidly and create contingency plans to continue to drive data-driven decisions.

Integrations & Automations in monday.com
With a supported tier of service, you can connect your Monday.com account to other apps your team uses. With Integrations, you can turn your monday.com account into your personal work hub! Its Integrations allow you to seamlessly connect monday.com to external platforms. This is done by using predefined Integration flows that are created for you to choose from.
As of this writing, 39+ apps are supported, including Slack, Outlook, Microsoft Teams, Dropbox, Jira, Zendesk, Stripe, Toggl, BitBucket, Gmail, Google Calendar, and Mailchimp. Integrations with other apps let you move information between them automatically.
Monday.com has a list of automations already configured. You can choose which ones you want to enable and then customize them to match the details of your work. For example, one of the automation says, "Every time period create an item." When you choose this automation, you get to decide what time period and what item. You might end up with "Every Friday, create a task called Log Your Hours." You can use Automations for notifications, status changes, recurring tasks, or even moving a task from one board to another. "When a task on Board A is marked Complete, then move it to Board B."

How Secure is Monday.com ?
The security model and controls are based on international protocols and standards and industry best practices, such as ISO/IEC 27001 and ISO/IEC 27018, and is undergoing annual security audits and assessments. We use high physical, procedural, and technical security measures to preserve the integrity and security of your data, as well as adhering to the strictest data protection laws.
As part of the company's focus on security issues, the company security team performs on a regular basis:
Monitoring and analyzing the infrastructure for suspicious activities and potential threats.
Issuing periodic security internal review.
Dynamically updating the security model and addressing new security threats.
Systematically examining the organization's information security risks, taking into account threats and vulnerabilities.
Designing and implementing a coherent and comprehensive suite of information security controls and/or other forms of risk treatment (such as risk avoidance or risk transfer) to address the risks that are deemed unacceptable.
Adopting an overarching management process to ensure that the information security controls continue to meet the organization's evolving information security needs.

monday.com's Students Program
monday.com transforms the way students and educators manage their classes, assignments, grades, events, and communications with others; all seamlessly in one collaborative space. Today, monday.com is the go-to Work OS for students and educators around the world who are now more engaged, more successful, and more on top of their work than ever before.
By joining the Student Program you get to enjoy a free monday.com account. Yes, it's free!
Who is eligible to join the Students Program? Students and educators from an accredited college or university are eligible to join.

Monday.com in the News

Reviews
Lets look at the Reviews / Ratings / Score monday.com got on various Sites:
Trust Radius : 8.6 out of 10
Trust Pilot : 4.5 out of 5
G2.com : 4.5 out of 5
Gartner : 4.5 out of 5
"I like how easy it can be to adapt Monday.com to my work system. It has been an indispensable aid for the administration of the time and realization of each one of your plans and tasks with the purpose of fulfilling commercial projects. It has great capabilities, provides tools that allow I to perform each management as I need to do it, it is easy to configure and customize everything according to my need of use which significantly increases its usefulness in my daily work life."

Alternatives
Asana
Asana is software that helps teams coordinate and manage their work. It helps teams of all sizes work more efficiently by making sure everyone knows the team's plan, process, and responsibilities. Organizations use Asana to manage everything from marketing campaigns and product launches to work requests and team goals. Asana is available on web, Android, and iOS.
Basecamp
Trusted by millions, Basecamp is the leading web-based project management and collaboration tool. The collaborative nature of the platform means that everyone involved with a certain project can view the to-do list and clearly see who is responsible for the completion of certain tasks. Automatic check ins are a great way to remind everyone to provide a regular status update, meaning that the team can clearly see the progress that has been made. The Campfire area is a great way to chat informally about ideas before nailing down a more formal plan. The whole interface is laid out very nicely and it is an efficient way to manage multiple projects in one place.
Trello
A visual collaboration tool that creates a shared perspective for your team on any project in a fun, flexible, and rewarding way. From sales and marketing to HR and operations, teams can design and customize Trello to fit their unique needs and work styles. And with over 100+ integrations with other key tools like Google Drive, Slack, Jira and more, Trello is a living, breathing project hub of cross-team collaboration no matter where your work needs to happen.
Trello's core features are as relatable is organizing sticky notes on a wall. There's no cumbersome onboarding process to get started, so getting group participation is easy. Log in, join a team and see progress across all the team's projects right away.

Recommendation
When you sign up for a tool like Monday.com, it's important to have clear expectations of what it can and cannot do. If you're in the market for a work management app, it's a good choice. If you need a project management app, you're better served looking at apps that neatly fit into that category.
Visually, it's incredibly appealing and provides a great first foray into project management !

Conclusion
Monday's services are unparallel to any other project management tools by far in terms of time, deliverability and especially by offering the whole package at a much cheaper cost.