Covid19 has lead this World to many problems – Layoffs is one of them.
Layoffs have slammed tech companies both large and small since the start of the coronavirus pandemic in mid-March. The industry has cut more than 40,000 jobs so far, but the month of May was the cruelest yet. In a single week in early May, Uber Technologies Inc. announced it would slash 3,700 positions, Airbnb Inc. said it would cut 1,900 and Lyft Inc. fired or furloughed more than 1,000.
However, not all technology companies have been equally affected by the pandemic. E-commerce giant Amazon is adding 175,000 workers to help handle a surge in orders, while other tech behemoths, including Facebook Inc. and Apple Inc., haven't made public any plans to cut jobs. Alphabet Inc.'s Google, however, has said it will slow hiring, while International Business Machines Corp. is cutting thousands of jobs.
Layoffs.fyi, an online tool created by San Francisco entrepreneur Roger Lee, has been meticulously cataloging such layoffs since early March, when the World Health Organization declared COVID-19 a pandemic. Built on an Airtable spreadsheet, the tool is an impressively substantial source of up-to-date information, including details such as the number of affected employees, which cities are impacted, hiring companies, links to news sources, and, of course, the names of the companies that are laying off their employees.
Without further ado, lets see how this Website Layoffs.Fyi can be useful for anyone that has lost the jobs due to this pandemic.

What is this Website About ?
The Website https://layoffs.fyi/ is tracking all Startup layoffs and lists of employees laid off since the Corona Virus was declared a Pandemic. It is created by Roger Lee.
Check out this Thread where Roger talks about how he started this website :

Given how the pandemic has unfolded, it's not surprising we've seen so many layoffs (at least, in hindsight). Talking about Startups that are generally unprofitable and rely on funding from venture capitalists. VCs hope their investment will lead to fast revenue growth. When an external shock like the coronavirus hits, the economy slows down. Businesses and consumers pull back spending, leading to lower revenue growth for startups. Startups then conduct layoffs to realign costs with their lowered revenue.
What the Analysis Tells us?
The 3 factors driving layoffs post COVID-19 are:
1. Industry (is it impacted by shelter-in-place?)
In other words, industries directly affected by shelter-in-place orders are most likely to do a layoff. Over 2/3 of startup employees laid off have come from these industries. Examples include car-sharing startup Getaround (100 employees, 25%), e-scooter startup Bird (406 employees, 30%), and short-term apartment rental startup Sonder (400 employees, 33%).
2. Business model (is it transactional?)
Many startups with layoffs have said that the coronavirus caused an immediate and dramatic dip in revenue. Fitness startup ClassPass said that 95% of its revenue has dried up. Local services startup Thumbtack said its business has fallen by over 50% in many markets. Ticketing company Eventbrite has seen "revenue projections fall off a cliff."
These startups all have a transactional business model, meaning they make money from one-time purchases, commissions, or transaction fees. Startups with a transactional business model are more susceptible to sudden declines in revenue because their revenue doesn't automatically renew the way it does in SaaS. The startup needs to make new revenue-generating transactions every day in order to continue earning money.
3. Cash runway.
The final factor is how many months of cash the startup has left in the bank. In a memo to employees, Bird's CEO said that its layoff was needed "to ensure a cash runway to last through the end of 2021."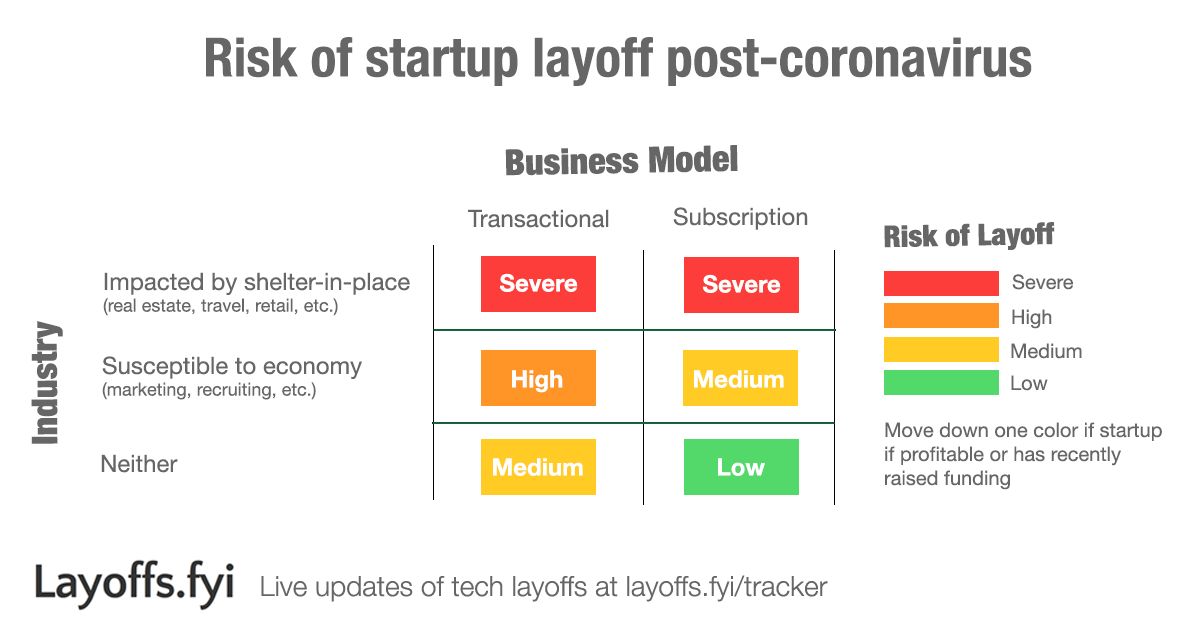 Lets Review the Website
The homepage Layoff.fyi is the place where you get the constant updates.
The side bar has a widget that shares the latest updates on Layoffs :
But the main is the Layoff Tracker. The Layoffs.fyi Tracker maintains a comprehensive list of all startup layoffs since COVID-19. There's now a new "Layoff Charts" tab too ! Check it out for real-time graphs of startup layoffs by month, industry, and location — all updated automatically.
Companies w/ Layoffs
The first tab Companies w/ Layoffs essentially lists down the companies that have declared layoffs publicly, along with the City, No of employees laid off, and the Source of information. And also the Industry Type.
You can use the Filter option (only in Desktop site) to select your city, example : Bengaluru / Gurgaon / New York etc and see the impact city wise.

Also look at the data Industry wise, example Travel, Education etc

There are also unverified Layoffs, i.e. the ones contributed by readers but could not be verified:
Layoff Charts
The second tab is essentially the data in the form of some useful charts. This tells us which industries are most and least affected by the pandemic.
List of Employees Laid off
The third tab is quote useful for the Employees that are actually laidoff.
You can also directly go here : https://list.layoffs.fyi/

For example these are employees in Bengaluru area that are looking for jobs due to Layoffs :
You can click on 'Email' to get their Email ID and contact them for any opportunity.
Companies like Uber have themselves put up a list on their Website and you can get similar lists from the link on the 3rd tab :

In other cases employees have themselves shared their data and for Example, you can see a complete list of Employees looking for a Job that are laid off by Eventbrite, along with their LinkedIn Profile link :
Individuals listed above have given their Company the permission to share their information externally.
Companies Still Hiring
The last Tab is an important Tab that affected employees can use and explore open positions.
For Example, these are the Comapnies hiring in Bangalore area, the domains, the link to apply, and the direct contact Emails :
These are the ones for Gurgaon Location :
There are more such companies that are hiring and you can click on the link to know more :
How affected Employees can make use of it ?
Add yourself to the List
If unfortunately you are one of the employees affected by the Covid19 Layoffs, or if you know someone who is affected, they can submit their information here : https://layoffs.fyi/add-yourself/
This will take you to a Form where you can fill in basic details, along with your domain, experience, location, and LinkedIn profile.
If you change your mind, or you get the job, you can remove yourself from the list : https://layoffs.fyi/remove-yourself/
Check out Hiring Companies
The tab 'Companies Still Hiring' is the go-to place where you can see the open opportunities and apply according to your Function & Location.
At the time of writing there are 840 records, that means around 840 companies are hiring around the globe and there are chances you will soon get a job and be out of the situation !
How Hiring Companies can make use of it ?
Hiring Companies can make the best of this time and get talent from big companies that were unfortunately laid off due to the pandemic. You can go to this link : https://layoffs.fyi/add-your-company-hiring/
How everyone else can make use of it ?
If you are one of those who are not affected by this then congratulations ! But it is our moral duty to help all those in need. You can do it either by :
Sharing this post within your circle
Do share this post so that it reaches the maximum people and they can benefit from it :
https://princepatni.com/blog/tech/this-live-layoff-tracker-can-help-those-who-lost-jobs-due-to-covid19/
Sharing information on Layoffs
If you come across any intel on layoffs, you can share this through this form that will be added to this website for larger use : https://layoffs.fyi/share-layoff-intel/
Useful Links
Follow This compnay on
LinkedIn : https://www.linkedin.com/company/layoffsfyi/
Twitter : https://twitter.com/Layoffsfyi
Conclusion
The mass layoffs could continue for months to come, as more companies cut costs in order to survive what may be a prolonged downturn. Many economists have given up hope of a so-called V-shaped recovery, believing instead that a return to normal will take more time, even if the public health crisis is brought under control.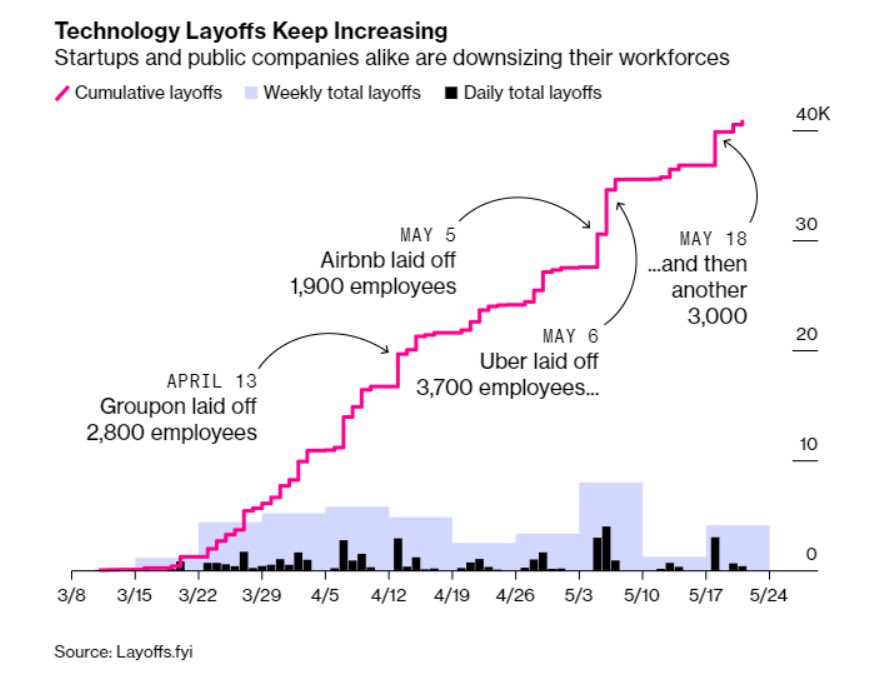 But there are flickers of hope. "A lot of people who are out of work could become really innovative, and create really disruptive technology". Once the smoke clears from those layoffs, will we finally see some ecosystem renewal? Here's hoping.